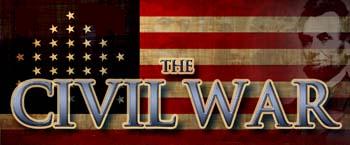 "WAR OF THE REBELLION"

(1861-1865)
In the 1860 presidential election, Republicans, led by Abraham Lincoln, opposed the expansion of slavery into US territories. Lincoln won, but before his inauguration on March 4, 1861, seven slave states with cotton-based economies formed "the Confederacy." They included; S.Carolina, Mississippi, Florida, Alabama, Georgia, Louisiana and Texas. To them, changing their "old ways" of doing business would surely mean a collapse of their livelyhood. To Union States it was in part, a moral issue. Hostilities began on April 12, 1861, when Confederate forces fired upon Fort Sumter, a key fort held by Union troops in South Carolina. Lincoln called for each state to provide troops to retake the fort; consequently, four more slave states; "Virginia, Arkansas, Tennessee and N.Carolina" joined the Confederacy, bringing their total to eleven. The Union controlled the border states and established a naval blockade that crippled the southern economy. Confederate control over its claimed territory and population in Congressional Districts steadily shrank from 73% to 34% during the course of the Civil War due to the Union's successful overland campaigns.
Finally, after over 4 straight years of deadly battles upon the American homelands, Robert E. Lee surrenders, April 9, 1865. A victorious President Abraham Lincoln is assassinated April 14, 1865. Capt. Waddell was the last confederate surrender November 6, 1865. On August 20, 1866 Andrew Johnson signed the proclamation of peace among the United States.
It remains the deadliest war in American history, resulting in the death of over 750,000 soldiers. Civilian casualties have been estimated as much as 200,000 but are not accurately measurable. The war also created at least 37,000 widows and 90,000 or more orphans which significantly changed the American society. As you can see below, the list of known soldiers who participated from the Everingham family (a fairly uncommon family name) is extensive. It is likely that deaths in our family from this war, especially in the south, will never be accurately known.
All Union Soldiers unless otherwise noted
ILLINOIS
Capt. George B. Everingham (Company F) 62nd Vol. Infantry Illinois. Enlisted Dec 15, 1861.
Pvt. Joseph H. Everingham (Company F) 108th Infantry Illinois. Enlisted Aug 15,1862.
---
IOWA
Lt. Barsnett Dell Everingham (Co. I) 38th Iowa Vol. and (Co. F) 34th Iowa Vol. Inftry He particpated in: Siege of Vicksburg: Expedition to Jackson Miss.; Pursuit of Gen. Johnson; Capture of Brownsville Texas: Siege of Ft. Morgan-Mobile Bay, Ala.: Battle of Blakely Ala.
Pvt. William Everingham Enlisted at age 38 on Aug 13, 1861. Co.I, 9th Iowa Volunteer Infantry.
Pvt. James Everingham, (son of William above) enlisted on April 18,1862 for three years service in the Regulars, as a Private in Co.B, 2nd Battalion, 16th U.S.Infantry. He lied about his age, he was 15 years old, not the required 18 years of age. He enlisted at Lansing, Iowa.
Physician Joseph Everingham Co.I, 7th Iowa Infantry (Asst. Surgeon).
Enlisted at age 31 Aug 20, 1862.
---
KENTUCKY

Sgt. S.H. Everham
7th Kentucky CSA Infantry, died Oct. 30, 1863 in a Union prison camp. Johnson's Island Confederate Cemetery, Marblehead, Ottawa, OH.
---
MARYLAND

William Henry Everngam
Taken prisoner at Centerville MD, implicated in the sinking of the blockade ship "Hard Times" at Corsica Creek - Feb 1, 1863.
died 1863 in Fort Delaware, DE

Thomas J. Everngam 4th Maryland Battery, killed in the hottest of the fight on April 2, 1865.



---
MINNESOTA
Sgt. William J. Everinghim Co.C, 9th Regiment Minnesota Infantry. Film #M546 roll #3, Rank in; Sergeant, Rank out; Sergeant.
---
MISSOURI
Pvt. Richard Everingham Co.A, Captain Foster's, 77th Regiment Missouri. Oct 22, 1862-Dec 2, 1862 -AND- Sept 27 to Dec 19, 1864. Kansas City, MO. - info from Grant & Marge Hayes 2002.
---
NEW JERSEY
arranged by Regiment
Pvt. James Evernham (Co. D) 1st Regiment, Mustered in 8-19-1861
Pvt. Joseph Evernham (Co. D) 1st Regiment, Mustered in 5-21-1861,
Died of Typhoid fever 4-10-1862.
Pvt. William Everingham (Co. B) 4th Regiment Mustered in 4-27-1861, Mustered out 7-31-1861
Pvt. William H. Everingham (Co. A) 6th Regiment NJV, Mustered in 8-19-1861, for 3 year term, Mustered out 9-7-1864. Mercer Cemetery, Mercer, NJ shows born 1845, d.1885.
Pvt. James M. Everingham records also show name as (Evernham/Everman)
Enlisted Aug 7, 1861 Co.A, 6th NJ Infantry
Killed in Action Williamsburg VA May 5 1862. Roster published 1876
Pvt. John Everman 8th Regiment, Volunteer Infantry Enlisted Feb 24, 1865, Deserted June 7, 1865 at Alexandria, VA.
Corp. Charles H. Everham (Co. B) 12th Regiment. Mustered in 9-4-1862,
Died of wounds 9-28-1864. Died at Florence S.C. Sept. 28, 1864, of wounds received in action at Wilderness, VA, May 6, 1864.
Pvt. Daniel N/M? Everingham (Co. G) 12th Regiment, Mustered in 9-4-1862, Mustered out 6-4-1865.
Sgt. Alexander L. Evernham (Co. H) 14th Regiment
Mustered in 8-26-1862, Mustered out 6-12-1865. Discharged at Trenton, NJ.
Pvt. Charles Evernham (Co. H) 14th Regiment, NJV Infantry, Mustered in 8-26-1862, Mustered out 6-18-1865... This soldier is buried at E. Windsor Cemetery, Mercer, NJ.
Pvt. Lewis J. Everingham (Co. A & Co.I) 14th Regiment, Mustered in 8-30-1864, Mustered out 5-26-1865. (a recruit) Tombstone in Holcombe Riverview Cemetery, Hunterdon, NJ says b.20 May 1845, d.15 May 1890
Pvt. Benjamin Everingham (Co. H) 22nd Regiment Mustered in 9-22-1862, Mustered out 6-25-1863.
Pvt. Benjamin S. Everham (Co. F) 23rd Regiment. Mustered in August 1862 Mustered out 6-27-1863.
Pvt. Gilbert M. Everham (Co. D) 23rd Regiment. Mustered in 9-12-1862 Mustered out 6-27-1863.
Corp. William C. Everham (Co.I) 23rd Regiment Mustered in 9-1-1862.
Died 1863 Typhoid Fever at Lovell, US Army Gen. Hosp. Portsmouth Grove, RI, buried at Lumberton, NJ.
Pvt. Charles Everingham (Co. B) 28th Regiment, Mustered in 8-26-1862, Mustered out 7-6-1863.
Pvt. Peter Everingham (Co. C) 29th Regiment NJV Infantry, Mustered in 9-20-1862, Mustered out 6-30-1863. Fernwood Cemetery, Middlesex, NJ shows d.23 Feb 1903.
Pvt. George W. Evernham (Co. D) 34th Regiment, Mustered in 9-2-1864,
Died March 10, 1865 of Apoplexy in AL.

---
NEW YORK
Sergeant Warren Everingham Co.D, 104th N.Y. Infantry. Enlisted (age 31) Dec 30, 1861 at Geneseo, NY.
Charles Henry Ives (Company D) 122nd Regiment NY volunteers
married Eunecia Bidwell EVERINGHAM
Chas Everingham (Company C) 122nd Regiment NY Volunteers
age 21 when elisted Aug 13 1862. deserted Sept 30, 1863.
this could be another Charles, but is likely as linked above, brother of John below.
John Everingham (Company C) 122nd Regiment NY volunteers
& 1st independent battery, NY light artillery. Elisted at age 27, Aug 12, 1862 at Fayetteville NY.
2 men above, listed in Fayetteville's Weekly Recorder Newspaper Feb 16, 1888.
John Evingham (1825-1900) (Company A) 85th N.Y.V.
man above buried in Rogers Cemetery, Amity, Allegany co. NY.
Charles Everingham (d.7-24-1895 age 58) (Company H) 15th NY Cavalry
James S. Everingham (1836-1910) (Company I) 149th NY Infantry
2 men above "brothers", listed in Walnut Grove, Jamesville Cemetery, Dewitt
Jeremiah Everingham AKA "Jerry" (mustered 1864) (Company H) 2nd NY Cavalry "d.30 Jul 1920 age76" Fayetteville Cemetery.
Pvt. Byron A. Everham Co. A. 3rd NY Cavalry.
Pvt. Richard Everinham, Army, Co.G, 7th Heavy Artillery, NY. (no further info)
Sgt. William Everingham Co.E, 136th NY Infantry.
Lt. William T. Everinghim enlisted at age 28 June 19, 1863 in New York City, NY.
Corp. Van Renselaer Everingham enlisted (age 27) Nov 21, 1861 at Lafayette, NY. Died of Disease April 27, 1862. -- see photo below
---
OHIO
Pvt. Henry Evringham (age 39) enlisted Nov 18, 1861 in the 13th & 14th Independent Battery, Ohio light Artillery
Pvt. John Everingham enlisted (age 20) June 12, 1861 Sandusky Co. Ohio, Co.E, 25th Infantry. wounded May 8,1862, Discharged Oct 13, 1862. / severe buckshot wound to ankle
Corporal John Evringham (age 22) enlisted Jan 4, 1864 Co.I, 9th Ohio Cavalry entered as a Pvt., discharged as Corp.
Pvt. Samuel S/L. Everingham (age 18) enlisted Aug 3, 1864, Co.B, 174th Ohio Infantry, and 180th Ohio Infantry
Corporal Thomas B. Everingham Co.E, 146th Ohio Infantry.
Enlisted May 2, 1864 Mustered out Sep 7, 1864 Camp Dennison OH.
Source: Ohio Civil War Soldier Roster Published 1886.
---
PENNSYLVANIA
Pvt. Aaron I. Evernham Co.H, 138th Pennsylvania Volunteer Infantry
Enlisted Aug 26, 1862 Mustered Out June 23 1865.
Pvt. Clayton B. Evernham Co.H, 138th Pennsylvania Volunteer Infantry killed in action 5 Jun 1864 Cold Harbor VA. PA Roster Published 1870
Grave #451 (Sec. D) at Cold Harbor National Military Cemetery.
Corporal J.B. Everingham Co.K, Mustered into the 112th Regiment of Penn. on Feb 29, 1864. Mustered out Oct 1, 1865. Co.F, 2nd PA Provl Heavy Artillery, and Co.K, 2nd PA Heavy Artillery.
Sgt. William Everingham (b.1839) enrolled 10-25-1861 Co. B, 84th PA Volunteers. Mustered out Dec 11, 1864
Pvt. James Everingham Co.F, 58th Penn. Infantry. Enlisted Feb 28, 1862.
Pvt./Sgt. Enoch Everingham Co.K, 43rd Infantry, Militia, Enlisted July, 1863, age 58!