.
Known Family Cemeteries:
(for searching)

Contact us, if you can transcribe other family sites!
Full cemetery transcriptions are recommended to catch all
of the family members that recording only Everingham's will miss.
---
Family Cemeteries: "Alphabetically by State"

MARYLAND

Where to find some other Everingham's in Ontario cemeteries

NOTE: If you have the ability to transcribe any family cemetery in CANADA, I would Love to add your info!

Related Family Cemetery:
(having very large related family plots)



St.Mary's Cemetery Westphalia, MI related families only:
PLATTE, TRIERWEILER, and FEDEWA.
Greenwood Cemetery Brant Co, Ontario related family:
NORRIS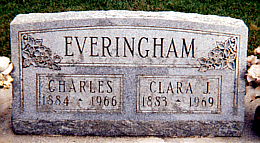 ---




BACK to the Resources Page

.






.
.
.
.